How Do I Use the MyCadillac App?

Introducing the myCadillac App
The myCadillac app allows you to sync any Cadillac car or SUV with your compatible smartphone, adding convenience and connectivity to enhance your Hollywood-area driving experience. All you need is your compatible smartphone to enjoy standard myCadillac app Connected Access features, as well as available Remote Access features, and so much more. In this guide from Cadillac of Beverly Hills, we'll teach you how to download and set up the myCadillac mobile app, so you can start to enjoy all of its features today!
Downloading the myCadillac Mobile App
So, how do you connect your Apple iPhone or your Android smartphone with your Cadillac? Beverly Hills drivers will find that it is remarkably simple. Just follow these steps to start enjoying the myCadillac app:
Visit the Apple App Store, the Google Play Store, or wherever you normally go to download new apps on your smartphone.

Download the myCadillac mobile app and wait for it to install.

You will need to have an OnStar

®

account or a Cadillac Owner Center account. If you don't already have one, you can create your personal account at

my.cadillac.com

. 

Use your account information to log into the myCadillac app on your smartphone. If your vehicle is already registered with the Cadillac Owner Center, the app will recognize your vehicle automatically.
Once you have downloaded the myCadillac app, you can customize it by selecting "Edit Dashboard". Then, check or uncheck the features you want to appear on your phone and hit the "Save" button at the top right of your "Edit Dashboard" screen.
What Features Are Included with the myCadillac App?
As the original purchaser of any new Cadillac vehicle, you will enjoy standard myCadillac app Connectivity Access features for 10 years. This basic package offers all of the essentials, with features including: 
Cadillac Smart Driver – View recent trip information, driving habit insights, monthly summaries, and available insurance discounts for safe driving.
Preferred Dealer

– Once you set your preferred dealer, you can schedule Cadillac service with the press of a button. You can also check for any recent recalls.

Vehicle Service

– Keep track of required maintenance and pass visits, change or cancel appointments, and receive instant service alerts.

Owner's Manual / How Things Work

– Enjoy instant access to a searchable Owner's Manual, as well as how-to videos on a wide variety of Cadillac features.

My Cadillac Rewards – Enroll in the My Cadillac Rewards to earn points for all things Cadillac. Whether leasing a new car, purchasing genuine Cadillac auto parts, or taking care of regular service, you'll earn rewards points that you can use on everything from protection plans to additional features.
Assistance

– The myCadillac app Assistance tab allows you to contact OnStar

®

support or Roadside Assistance with the push of a button.

Marketplace

– Browse special offers from the many brands that partner with Cadillac to take advantage of a rotating selection of rewards and incentives, while earning additional points.

4G LTE Wi-Fi® Hotspot Management: This available myCadillac app feature allows you to change your Hotspot name and password and purchase data plans.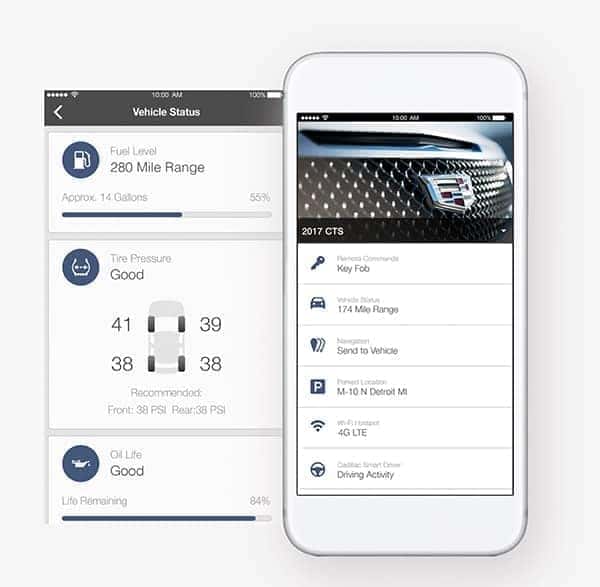 These are just a few of the things you can do with the myCadillac mobile app on your smartphone. If you opt for the paid myCadillac Remote Access Plan, you will enjoy additional features such as:
Mobile Vehicle Status – Use your smartphone to check your fuel level, tire pressure, oil life, or mileage on the go.
Remote Commands

– Access remote locking/unlocking and myCadillac Remote Start app features. You can also sound the horn from a distance, or flash the vehicle's lights.

Navigation

– Search for directions on your smartphone and send them instantly to your Cadillac navigation system. 

Vehicle Location

– Instantly locate your vehicle, send notifications for arrivals and departures, and set boundary alerts.

MyCadillac Skill for Alexa: Use your compatible Amazon Alexa-enabled devices to issue certain remote commands to your vehicle with your voice
Depending on the type of smartphone or device you have, you may be able to access even more myCadillac mobile app features to enhance your Culver City commute.
Make the Most of the myCadillac App with Cadillac of Beverly Hills!
The myCadillac app is designed to make like a bit easier with access to a wide range of convenient features. When you select Cadillac of Beverly Hills as your preferred dealer, you'll be able to access our current service specials, check for recalls, schedule service, and more! If you have any questions about the myCadillac app, please visit the Cadillac Owner Center, call a Cadillac Connection Center Specialist at 1.877.558.8352, or contact our team for details.